BELTANGADI: A phenomenon which has angered consumers due to the demotion of the mescom staff, has taken place in the taluk's Kaniyoor, Nayatarpu, Odilnala and Kali areas.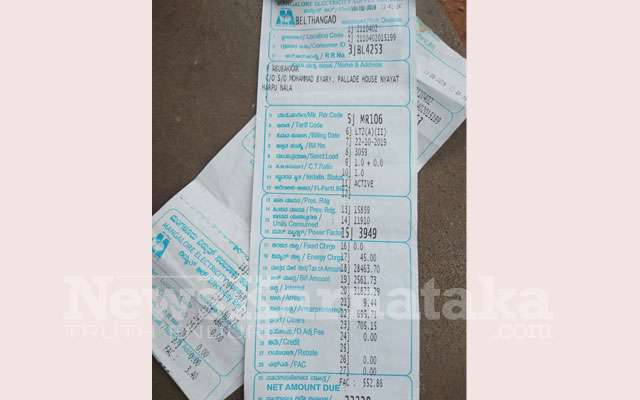 More than 180 electricity users in these four villages have complained that the Mescom department has given more than the regular October bill, but the villagers have wandered the concerned department and are outraged at not getting an answer.
The Gerkkutte resident who used to work on a mescom outsourcing bill was a local reader who had been assessing the bill locally for over a year without adequate reading. Neither department was aware of this. Then when the problem comes out, an outrageous bill is given.
When questioned by the department officials, we have checked the meter measurement for the last 6 months as it has been noticed that there has been a problem in the past one and a half years without adequate billing. Thus, it is inevitable that a bill of 10 to 25 thousand will be required.
In the meantime, consumers have been confused, leading to protests against the outbreak of the bill and the legislature. The lawmakers have instructed Mescom officials to issue a notice of payment to the concerned contractors, not to pay the bill for any reason.
The public is of the opinion that the Department of Mescom is now responsible for the irresponsible handling of contractors and that if the Department had already taken notice of this, there would have been no additional unnecessary burden on the customers.
Messcom letter to superiors
The current customers need to have an unlimited bill because they cannot afford to build something. Consumers are required to pay for the electricity they spend, and Messcom recommends that the burden be paid in installments for up to a year. Mescom AEE CH Shivshankar says that a letter has been written to the bosses to take action against the contractors.
Reading inspection of each house
There are about 77,060 electricity users in Belthangady taluk and 39,289 thousand in Ujire. In terms of outsourcing to these customers, a total of 74 operators are outsourced, including Belthangi-54 Ujire-20. Linemen have been advised to review the reading of at least 5 homes in each ward to see if the mescom department, alerted by the case, is adequate for all other sectional measurements.