Coimbatore: A truck collided with a young woman who was on her way to avoid the AIADMK flag pole on the road, on the Avinashi road in the Goldwins area of ​​Tamil Nadu.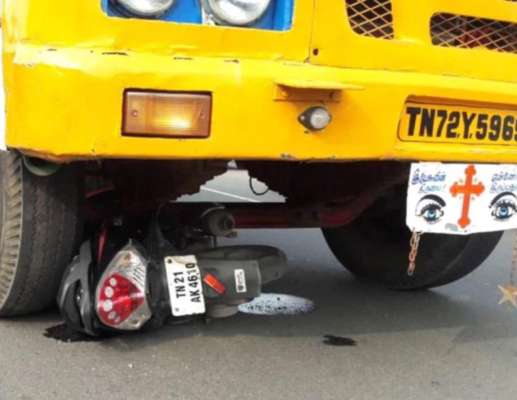 The 30-year-old woman, identified as Anuradha, suffered several injuries as a result of the truck being hit on her leg, police said. Anuradha who was working as an accountant was admitted to a private hospital in Coimbatore and is being treated.
The young woman stopped her bike in the middle of the road to avoid colliding with a flag pole in the middle of the road. The truck from the back collided with the young woman and toppled over. The flag pole was inaugurated by Tamil Nadu Chief Minister Edappadi K Palaniswami on his visit to Coimbatore.
The driver of the truck, Murugan, fled the scene. No action has been taken against AIADMK activists who installed the flag pole without permission.
The 23-year-old Tekki Shubashree, who was killed in a road accident in Pallikaranai, Chennai, was hit by an AIADMK leader's wedding banner. Then there was the controversy. The Madras High Court, which had inquired into the matter, had directed the High Court to remove unauthorized banners.
The Madras High Court had on September 13, dismissed the government's decision to impose banners and hoardings on the roads, despite orders from the government and officials.