The Supreme Court on Saturday pronounced its verdict in the Babri Masjid mosque in Ram's birthplace in Ayodhya. Here is an overview of the major events chronology for the case: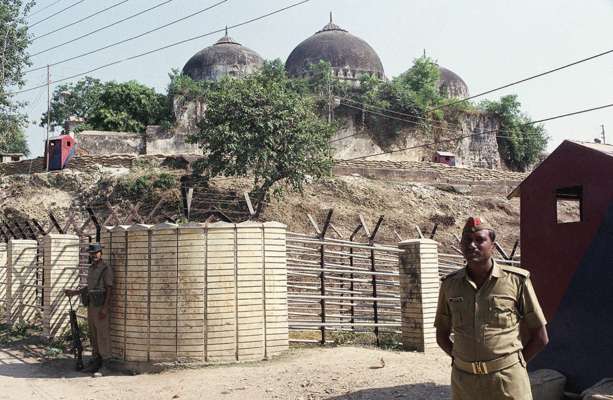 281528: Construction of a mosque in Ayodhya by Mughal Emperor Babur
85 1885: Petition filed in the Faizabad District Court by Mahant Raghubira Das seeking permission to build a canopy outside the controversial Ram Janmabhoomi-Babri Masjid building. 1949: Statues of Rama and Sita were placed beneath the central dome outside the disputed building. It is not clear who placed these idols
501950: Litigation in Faizabad district court by Gopal Shimla Visharaya seeking hakku for worship of idols. In the same year, Paramahansa Ramachandra Das filed a lawsuit seeking permission to continue prayers and idols in the building.
51959: Third lawsuit filed by Nirmohi Aqada seeking extradition of disputed authority
811981: Fourth litigation filed by the Sunni Central Waqf Board in Uttar Pradesh seeking settlement
861986, Feb. 1: District court orders removal of locks and freeing the place to Hindu worshipers
891989, Aug 14: Allahabad High Court order to maintain the status quo for disputed building
921992, D6: The Babri Masjid Building Wreck
931993: Appeal to the Supreme Court for the opinion that there was a place of Hindu worship before the mosque was erected by the acquisition of 67 acres of land around the disputed site. Submission of writ petitions in Allahabad High Court by many including Ismail Farooqi
94 1994, Dec. 24: Supreme Court statement in the historic Ismail Farooqi case that the mosque is not an integral part of Islam
22002: Appeal begins with Allahabad High Court to decide who belongs to the disputed site
Supreme Court in Aslam alias Bhure case: No religious activity allowed in controversial premises
May 14, 2003: The Supreme Court says that the interim order issued by the Allahabad High Court should be in effect until the civil cases in the Allahabad High Court are settled to maintain communal harmony.
10 2010, Sep 30: Allahabad High Court Special Full Bench Judgment ordering the disputed location of Sunni Waqf Board, Nimrohi Akhada and Rama Lalla Virajama
►2011, May 9: Supreme Court orders Allahabad Supreme Court verdict
16 2016, Feb 26: BJP leader Subramanian Swamy appeals to Supreme Court seeking construction of controversial premises.
17 21st, 2017: Advice of the then Chief Justice of India, JS Shehar, to settle out of court between opposing parties
172017, Aug. 7: Three-judge bench for hearing of petitions challenging the Allahabad Supreme Court's 2010 ruling
182018, Feb. 8: Civil appeals hearings begin in Supreme Court
182018, July 20: Supreme Court reserves its verdict
182018, September 27: Supreme Court refuses to submit case to five-judge Constitutional Court
182018, August 29: A bench of three judges headed by MN Ranjan Gogoi directs the hearing of the dispute petitions in January 2019 to set a trial date.
192019, Jan 8: The Ayodhya-owned dispute hearing of four judges, headed by Justice N. Ranjan Gogoi, comprising four senior justices - SA Bobde, NV Ramana, U Lalith and DY Chandrachuda Publish a notification from the Supreme Court
192019, January 10: NU Lalith withdraws from hearing of case, revises schedule for hearing from new bench
192019, Jan. 25: Reconstruction of the Constitutional Bench of Five Judges for the trial of the case. Present at the new bench are Justice N.Jayarajana Gogoi and Justices SA Bobde, DY Chandrachuda, Ashoka Bhushan and SA Nazir
192019, Feb 26: The Supreme Court advises on the settlement of cases between Hindu and Muslim clients in the case. Eight weeks' time for Muslim witnesses to review official translation of Ayodhya case records
192019, May 8: Supreme Court agrees to mediate Ayodhya controversy. Former Supreme Court Judge of the Supreme Court, FMI Khalifullah, Religious Leader Sri Sri Ravi Shankara and Senior Attorney Srirama Panchu
192019, Aug. 2: Conciliation committee fails to settle case. The Supreme Court's decision to proceed on a daily basis from that 6
192019, Aug 6: Appeals trial challenging Allahabad High Court verdict begins
192019, Aug. 16: Supreme Court upholds Ayodhya verdict after 40-day marathon hearing
192019, No. 9: Declaration of Decree by the Supreme Court