DHAKA: Bangladeshi Prime Minister Sheikh Hasina has been on the list of the world's leading female leaders for the longest time. Sheikh Hasina has surpassed India's Indira Gandhi, Margaret Thatcher of Britain and Chandrika Kumaratanga of Sri Lanka with this achievement.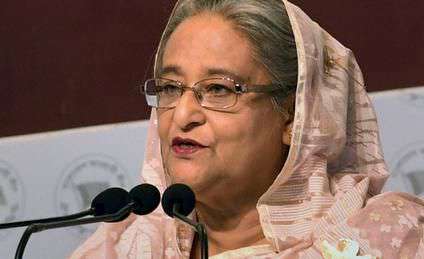 According to a recent poll by WikiLeaks, Sheikh Hasina has become an icon of female addiction. The longest-lasting record of leadership in the country is the name of Saint Lucia's Governor-General Dame Pierlet Lucy, who led the country from September 11, 1997 to December 31, 2017. He was governor of St. Lucia for 20 years and 105 days, but he has little reputation in world politics. Iceland's Vigdis Finbogadotter served as president of the country from August 1, 1980 to August 1, 1996, but he was not well known in world politics.
Dominica's Dam Ogien has been the country's prime minister for 14 years and 328 days. Ireland's Mary McAleese has been president of the country for 13 years 364 days. German Chancellor Angela Merkel is one of the world's leading female leaders who have held the position since November 22, 2005.
As far as Sheikh Hasina is concerned, she took the office of Prime Minister of Bangladesh for the fourth time on January 7, 2019 this year, in which she has been the Prime Minister of the country three times. Sheikh Hasina first became the Prime Minister of the country in 1996 and remained till 2001. His party won the highest number of seats in the 2008 elections and was honored to become Prime Minister again.
It is worth mentioning that Margaret Thatcher of Britain has been Prime Minister of Britain for 11 years 208 days. Indira Gandhi served as Prime Minister for more than 15 years at various times. Sri Lanka's Chandrika Kumaratanga held the post of Prime Minister and President for 11 years and seven days.