Afghanistan's league-break giggle bowler Rashid Khan has made another milestone and has become the youngest captain in the world to win a Test match. He performed this feat at 20 years old and 354 days old. Afghanistan skipper Rashid Khan made his mark in the only test played against Bangladesh in Chittagong. Afghanistan won by 224 runs. Rashid Khan took 11 wickets in the first innings with five wickets and six wickets in the second. In addition, he scored 51 in the first inning and 24 in the second inning. He received the Man of the Match award for all-round performances.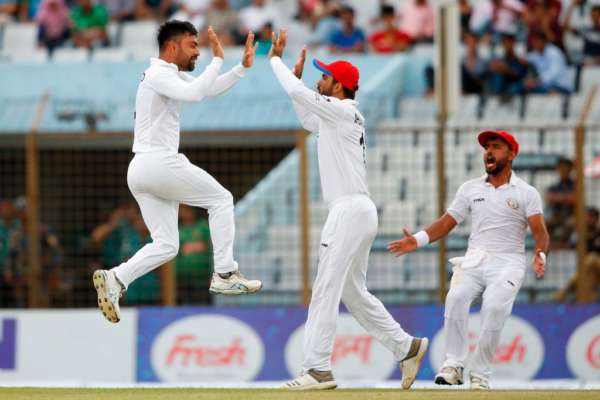 It should be noted that before the dangerous bowling of Star League spinner and captain Rashid Khan (six wickets for 49), Afghanistan defeated Bangladesh in the fifth Test of the only test and on the last day, by a huge margin of 224 runs. Afghanistan had set a target of 398 runs in front of Bangladesh and the Bangladesh team went ahead with 136 runs for six wickets. The morning game was delayed by rain and only 14 balls could be dropped by lunch. The game between lunch and tea was also kept out of the rain and wet field. After the tea break, the game started and Rashid didn't take long to outshine Bangladesh's innings.
Zaheer Khan dismissed Bangladesh skipper Shakib Al Hasan for 44, while Rashid pulled out the remaining three wickets to end Bangladesh's innings with 173 runs in 61.4 overs. Rashid took six for 49 in 21.4 overs and Zaheer took three for 59 in 15 overs. Rashid received the Player of the Match award for taking a total of 11 wickets in the match.
Afghanistan thus gave a wonderful farewell to Muhammad Nabi with this victory. The prophet announced a few days ago that he would retire after this test. The Prophet received the Guard of Honor twice in this match. After the end of the match, Afghan players presented them with a guard of honor. Afghanistan is not part of the ICC Test Championship, so it has not received any points from this win. Bangladesh is a part of this championship and this was their first match at the Test Championship. Bangladesh's account has not been opened yet