British Queen Elizabeth II has expressed her willingness to adopt a new law passed by the British Parliament on Bridget. Now this parliamentary decision has become law, and for Boris Johnson, 'no deal break' has become impossible. Today, Queen Elizabeth II has expressed its willingness to uphold the law passed by the House of Commons and the House of Lords, after which the decision of the legislature of the country has become law.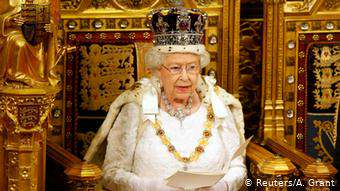 Thus, it is now impossible for Prime Minister Boris Johnson to carry out his intentions without breaking into a deal with the UK on October 31 this year. Prior to this, Boris Johnson had said many times that it would be good if the union signed a new deal with the London government, otherwise his government would make sure that the UK was not a 'new deal' or a 'hard break'. In the case of the union. But now conservative Prime Minister Johnson will not be able to do so.
In addition to this new law, Boris Johnson faced two very important issues today. One of his meetings with the Prime Minister of Ireland was to discuss Brexit and 'backstop'. The second is the debate in the lower house of the British Parliament, at the end of which it is to be decided whether premature elections should be held in the UK. Johnson's meeting with his Irish counterpart resulted in the mutual disagreement between the two leaders over the possibility of further monitoring of the border between Britain and Ireland. As far as the possible decision to hold the pre-election general elections is concerned, there was a parliamentary debate until the final news.
At the same time, Prime Minister Boris Johnson has said that he will now talk to the union for a new deal after the parliamentary legislation approved by the Queen to stop the 'New Deal Brexit'. Their 'hands will be tied'. In addition, Johnson also said that no 'New Deal Brexit' would be possible on October 31, but if no new Brexit deal with the union could be reached by then, his responsibility would have been partly on his own. Will also be charged. M / s A (AFP, Reuters)