A large frying pan explodes in a German food festival, killing one woman and injuring more than a dozen participants. An investigation into the incident has begun in the Federally Administered North Rhine-Westphalia. According to the News Agency DPA, the Food Festival Sunday, September 8, is in the city of Cologne in the northwestern province of Germany's most populous province. In the small town of Alden Freudenburg, on the east side, a large frying pan placed on a stall exploded when a large crowd gathered.
.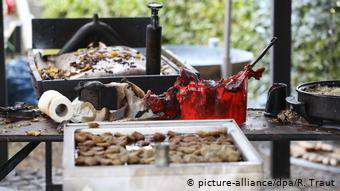 According to organizers, the number of people present at the festival was close to 150. More than a dozen people were badly injured when a frying pan exploded. One of the women, whose body was completely burned, died on Monday, September 9, without receiving any injuries. Medical sources said six of the injured were in critical condition.
Five of them were seriously injured due to the burning, while one person suffered a heart attack on the spot due to the blast. Police said potato chips were being prepared in boiling oil at a stall at a traditional food festival stall that exploded. The cause of the explosion is being investigated.
Investigators say it is likely that the frying pan exploded because of a gas cylinder underneath it. Police also said the injured were transported by emergency helicopters to various hospitals in the cities of Dortmund, Cologne and Bokham, where they are being treated. As a result of the blast, so many people were injured that 14 of them were bruised on the spot and the rest are undergoing treatment at various hospitals. M / a / dpa